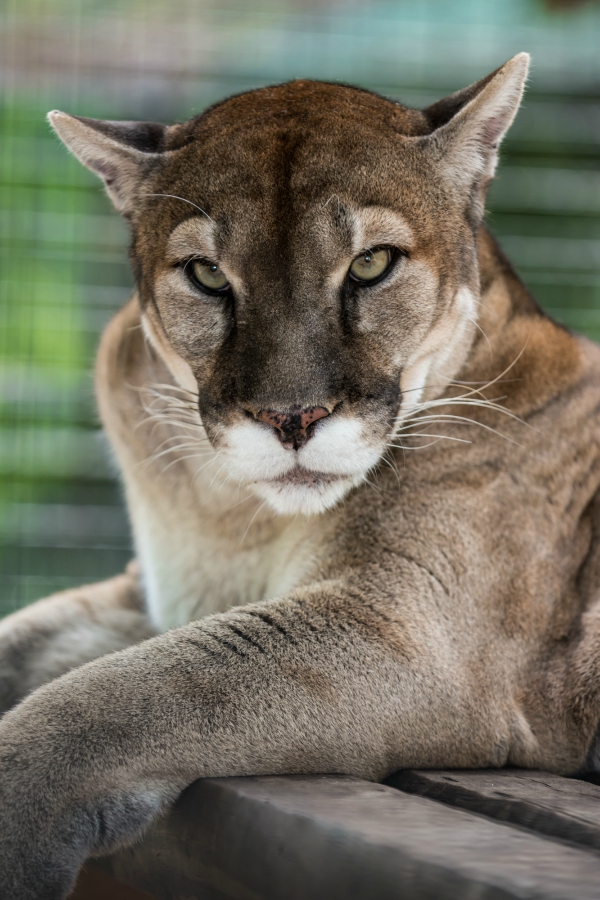 We at Catty Shack Ranch are once again mourning the passing of one of our residents. Al the puma (cougar, panther, mountain lion, a cat of many names) died peacefully on June 24, 2017, just a few weeks shy of his 16th birthday.
Al had not been himself recently – not interesting in eating, not very active, not climbing on platforms and not bothering his brother Tucker. But he had rallied and most recently he'd eaten well, enjoyed time on top of his perches and yes, played with Tucker. When our animals die, we have a necropsy performed; we do not have results yet. There is comfort in knowing he passed away with 2 special human friends in attendance – Curt, our Executive Director and Dr. Fred, our Medical Director.
Al and his brother Tucker were born at the Ranch on July 14, 2001. Cougar cubs are born with spots that fade with age. Al's spots resembled algebraic symbols, hence his name. Al and Tucker lived together, enjoying each other's company and like good brothers, enjoying hassling each other. If you heard yowling or "loud discussions" from the cougar area, it was usually Al and Tucker carrying on. If Tucker was napping, Al was ready to pounce on him and begin wrestling. If Al was resting, you knew what Tucker would do – bother Al!
In their younger days, their dining speed was amazing. They would leap to grab a small piece of chicken thrust through the mesh several feet over their heads and have swallowed it seemingly before their feet were back on the ground! Larger pieces of meat required a few more crunches before they too disappeared.
Having always had his brother, we know Tucker will miss Al. Giving him extra attention and love to help him through his loneliness will help the volunteers heal also. We miss Al's attitude and talkative nature. At cleaning time, we can even allow Tucker to choose whichever lockout den he wants that day. Previously, the boys had their own preferred den and cleaning proceeded much smoother when each entered his own spot.
Rest in peace, handsome Al! We love you and miss you. We'll take good care of your brother Tucker. May you continue to snatch up the choicest chicken morsels and may you rest on the most comfortable platforms. We were privileged to have loved and cared for you for your entire life.